These grants cover:
Rehabilitation costs (following injury) are the main grants provided by this Fund. Examples of this might be the cost of some physiotherapy sessions.
The fund is only able to support the cost of surgery or other treatment requiring hospitalisation in extreme circumstances.
Complementary and alternative medicine will not normally be considered for funding.
Please note recommendations for treatment that are received from the individual/organisation who will be providing it are not taken into account. 
If you require medical advice following injury whilst performing, and do not have the funds to pay for it, or are on a long NHS waiting list, we suggest you contact NIDMS or BAPAM.  BAPAM is currently offering online consultations to performers.
Read the full guidelines about medical costs grants.
Please see our Frequently Asked Questions for further information about who and how the fund can help.
9/11/2023: Applications are now closed. Sign up to our mailing list for updates on available grants.
Stories
---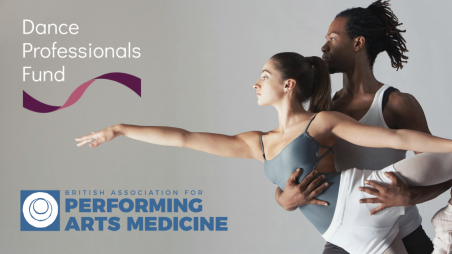 The British Association for Performing Arts Medicine (BAPAM) is a healthcare charity giving medical advice to performers. This includes an online directory of support in your area.
Free counselling is available for dancers, provided by BAPAM supported by Dance Professionals Fund.
To find out more or book a free, expert BAPAM health consultation call the BAPAM Helpline on 020 8167 4775 or email info@bapam.org.uk.